This Wheel Fitment Calculator is a complimentary research page with a complete OEM wheel fitment database. Here you can study your wheel fitting and tire size based on your car, truck, or SUV's year, make, and model.
Have you ever wondered what is your wheels offset? What size tire should I buy to keep my vehicle original? Or, what are the bolt pattern and bolt sizes for your vehicle? To help you obtain answers to these questions and more, we are maintaining this database. In it, you have several tools in one place:
Wheels Offset calculator, to compare and research wheel fitment according to the vehicle's Year, Make, Model, and Trim. What is wheel offset? Read our tech article and quick guide here

Tire Size calculator with the OEM tire sizes for each brand of vehicle

Wheel Bolt Pattern database

Wheel Bolt Size and Tread Database

Wheel Center Bore database
To view your vehicle's information, enter your MAKE, YEAR, and MODEL below.
How to read the Rim Size and Fitting Guide
Reading the guide is easy, placing a lot of information at your fingertips.
Below the rim offset calculator, you will also find definitions of some of the key terms used within the calculator chart.
Here are the most important concepts from the Wheel offset and rim size chart:
Click on the image to view it in greater detail.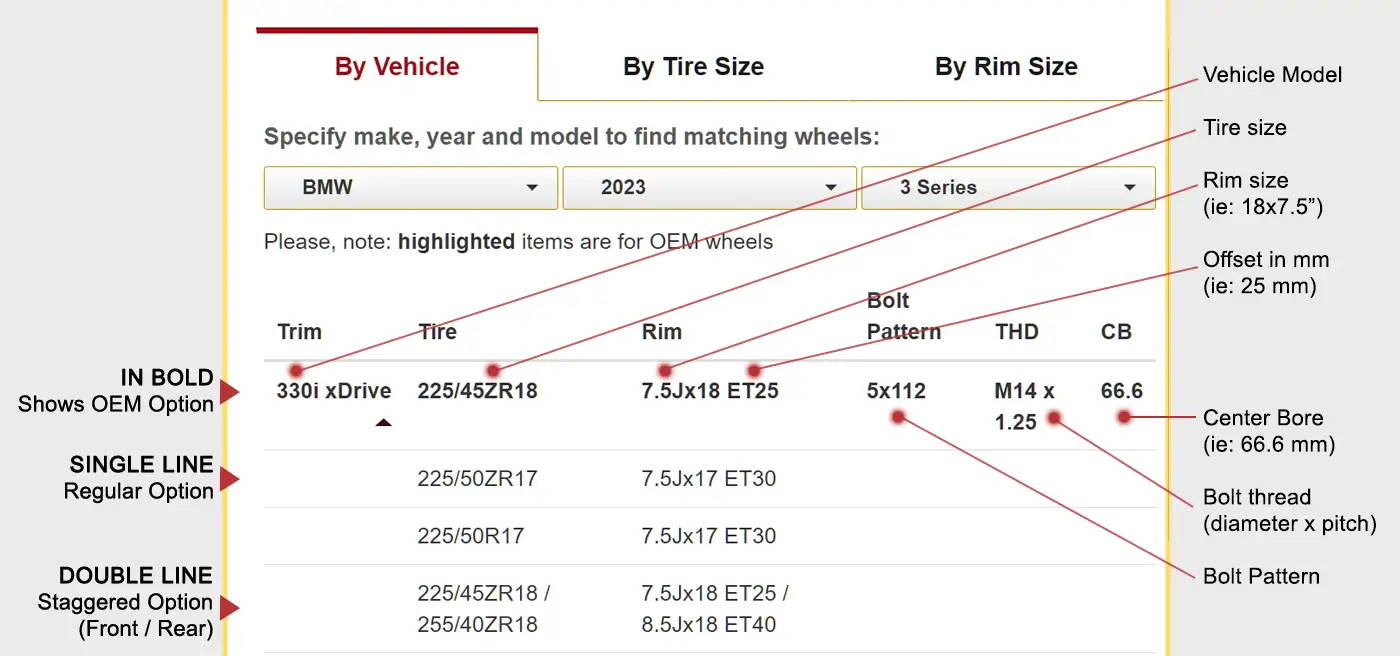 Key information on the Wheel Size and Fitting Guide
The first (highlighted) choice is the usual stock factory OEM size the vehicle rolls out of the plant.
Click on the red arrow to view additional OEM wheels and tire sizes available in your market.
Staggered sets (wider rims and tires at the rear of the vehicle) and tires are also indicated.
Car trim is a term that car enthusiasts frequently use to refer to the enhancements that are made to a vehicle's interior and exterior.
Explanation:
These improvements are designed to not only improve a car's appearance but also to enhance its functionality. The car trim may consist of a variety of features such as options in wheel size and finish, chrome accents, leather seats, wood-grain paneling, and high-tech infotainment systems, among others. Essentially, the car trim is the final touch that gives a car its unique style and character while also providing drivers and passengers with added convenience and comfort. When it comes to car trim, the possibilities are endless, and customers can customize their vehicles to match their preferences and lifestyle.
Best tire sizes to install for a given OEM rim size usually available from car dealers in your market area. Tire sizes in BOLD indicate OEM option.
OEM rim sizes and wheels offset is usually stamped on the reverse of the wheels. Ie: rim width in inches x rim size and wheels offset (ET) in millimeters.
Explanation:
When buying new rims for your car, it's important to know what size and offset you need. Luckily, most OEM rims will have this information stamped on the back of the wheel. You'll typically see two numbers: the first is the rim width and the second is the rim size (diameter). The offset (ET) will also be listed in millimeters. This number indicates the distance between the centerline of the wheel and the mounting surface. It's important to get the correct size rim diameter and offset for your specific vehicle to ensure proper fitment and avoid any potential issues. Don't worry if this all sounds a bit confusing - just take a look at the back of your current rims or consult with a trusted mechanic or tire professional for guidance.
The car model's bolt pattern ratio is defined as the number of lugs x holes distribution pattern in millimeters.
Explanation:
A wheel bolt pattern is simply the arrangement of the bolts or studs that hold your wheel onto your vehicle. It's measured by the number of bolts/studs on the hub and the distance between them. This pattern is essential when it comes to buying new wheels as it determines which wheels will fit your vehicle. So, if you're looking to change the wheels on your car, make sure you know your bolt pattern!
Indicates the OEM rims fasteners' bolt thread required in your lug nuts or wheel bolts. This is specified as Bolt Diameter (M) x thread pitch in millimeters.
Explanation:
Basically, when it comes to your car's wheels, you need to make sure that the lug nuts or wheel bolts you use fit properly. To do this, you need to know the bolt thread required for your OEM rims fasteners. This is measured as Bolt Diameter (M) x thread pitch in millimeters. It might sound confusing, but it's actually pretty simple once you know what to look for. Just make sure you have the right size and pitch for your car's wheels, and you should be good to go!
Is the Center Bore diameter figure of the wheels. It is simply the size of the wheel diameter of the hub hole in the middle of the rims, measured in millimeters.
Explanation:
In layman's terms, the wheel center bore is the hole at the center of your car's wheel that fits onto the hub of your vehicle. It's the part of the wheel that allows it to be mounted on your car's hub securely. The size of the wheel center bore varies depending on the make and model of your car, and it's important to ensure that the wheels you choose have a center bore that matches your car's hub size. This ensures correct fitment and safe driving.
If you would like more technical information on wheel fitment, the use of the wheel and tire size calculator, rim offset, bolt patterns, and measurements, visit our Tech Advice section. Here we share our knowledge with you to help you make the best possible decision for your car, truck or SUV.