What is the difference between OEM wheels and Replica rims?
Here is a question I 've heard several times a day for years, ever since I first entered the Automotive wheels industry. What's the difference between Original Factory OEM wheels vs replica wheels? The difference is more than just conceptual.
The main difference between OEM wheels vs Replica wheels is simple. Original Equipment Manufacturer or OEM Wheels are made or caused to be made by the vehicle manufacturer with fitment specific to one or several of their vehicles. On the other hand, Replica rims are made by independent manufacturers to look and function as OEM rims.
But it is not all that simple! There are more differences to take in consideration when determining if you can replace your rims with OEM vs aftermarket wheels.
Recognizing OEM Wheels
These are the original wheels your vehicle came with, also called Stock wheels or Factory wheels. In short, OEM Wheels are designed for your vehicle specifications or for a few models of the same brand. For example, Style 303 20" BMW OEM wheels were made from 2009 to 2015 for select 5 Series, 7 Series, and Activehybrid 7 models:
BMW makes the same style 303 20" wheels for:



2010-2017 BMW 535i GT
2010-2017 BMW 550i GT
2011-2015 BMW 740i
2009-2015 BMW 750i
2010-2015 BMW 760i
2011-2015 BMW
Activehybrid 7
In addition, these wheels are installed originally in a staggered configuration. This is when the rear wheel is wider than the front wheel. Consequently, the 20x8.5" Front rim has a different part number than the 20x10" Rear wheel.
But most times, wheels are designed to fit one specific vehicle.
Currently, each car manufacturer has contracts with wheel factories from around the world.
The days in which we knew that a Volkswagen car would have wheels made in Germany are long gone. Now you will find your VW factory rims were made in Austria, Turkey, South Africa, and Mexico.
So, how can you tell when wheels are OEM?
First, you must remove the wheel from your car. Then check the reverse side of the wheel, the "inside" if you will.
You will find most wheels stamped with various numbers and letters behind the spokes. Look for the brand's name or logo. Only factory original wheels will have the brand's name or logo stamped.
For example, Mercedes wheels have their three-pronged star logo. GMC, Pontiac, and Chevy wheels have the GM logo stamped.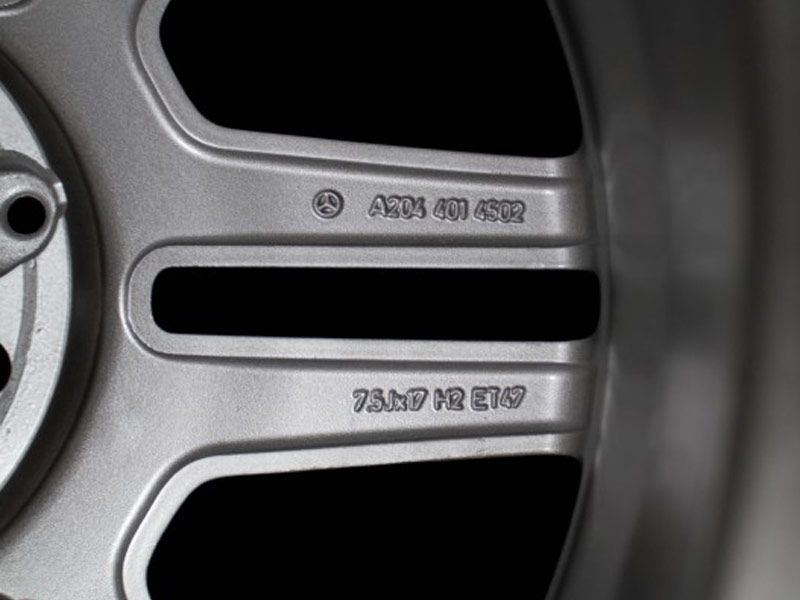 (Image showing the reverse of a wheel with the Mercedes Benz logo, it's part number and specs)
The best feature about OEM rims is that there are no guessing games involved. Buying a wheel with the correct part number for your vehicle ensures it will fit like a glove.
Replica Wheels and their features.
Replica wheels are aftermarket products, made by independent factories unrelated to the original car manufactories. That is not to say they are less than OEM wheels; many aftermarket rims are of outstanding quality.
As their name suggests, they are made to look like OEM rims for several practical reasons. In most cases, you can use them to replace one, two or all your damaged factory wheels.
They serve as a cost-effective replacement of your factory rims, or an additional choice if your original wheels are very hard to find. In fact, some replica wheels are made in different sizes and color versions to offer you different variations.
Note that replicas are not 100% exact copies of the original OEM wheels, most have tiny variations from the original wheel design. This variation is usually there so as to not allow the replica to impose a trademark violation.
Certain wheel variations are more prominent or aggressive. I've seen excellent Mercedes AMG replicas that will pass as original if you don't notice they have AME stamped on the front instead of AMG.
That said, I've noticed that the vendor made 126 sales of the AME replacement rim vs 3 sales of the OEM AMG wheel.
What was the advantage of the AME replica wheel?
Price, of course. The replica was $163 cheaper than the refurbished OEM rim, and $590.00 below MSRP!
By the way, when a vendor offers "Replacement wheels to fit…" a given brand and model, you are reading about a Replica wheel. "Replacement" has a friendlier connotation than the word "replica", don't you agree?
Are there quality differences between Replica rims vs OEM wheels?
It is obvious that car brands will aim to fit their vehicles with the best quality wheels and parts, within the production budget. If you have OEM wheels, you can feel certain you have the best possible quality for your vehicle.
But how about the quality of replica rims?
Here we must clarify some misconceptions and bias innuendo formulated by those who stand to lose market share when you buy replicas.
Today most replica wheels come from China, and Chinese manufacturers have come a long way since the wheel making frenzy of the 2000s.
Today, most Chinese wheel manufacturers produce top quality products.
In all my years in this industry, I have yet to see a quality problem specific to replica wheels.
The correct size pothole hit at a certain speed will have the same type of adverse effect in replicas as in OEM wheels.
"It is important to note that not all replica wheels are of good quality," said Frank Quiñones, Sales Manager for OE Wheels, LLC and 4Play Wheels. OE Wheels is one of the largest sellers of quality replica rims in the U.S., selling over 250,000 wheels annually.
"There are the important qualifications consumers should watch for when buying replica wheels" added Quiñones. "We work with the same factories that manufacture wheels for major Automotive Companies. Yes, in the same factory that OEM Wheels are produced"
He affirms OE rims have passed or exceeded all required safety testing as mandated by the Society of Automotive Engineers (SAE). This includes side-impact, load and radial testing.
In addition, each rim is sent through heat treatment for increased fortification and pass quality control program including steps such as x-rays and pressurized immersion.
Finally, Quiñones advises that customer should purchase replicas from a company that has a lifetime structural warranty against manufacturer defects.
Price difference between OEM wheels vs Aftermarket Replica wheels
Because price is the greatest advantage when shopping for Replica wheels, we conducted a small test.
We compiled a comparison worksheet between the Manufactory Suggested Retail Price (MSRP) from 100 factory wheels and that of their corresponding replicas.
We compared the published Dealer MSRP from random OEM rims with known replica counterparts. From there we established a difference in price to arrive at its corresponding percentage. We found that in all cases, replica rims are from 3.8% to 80.2% cheaper than factory OEM wheels. That is a pretty big price difference spread.
We have also noticed that the price difference between OEM and replica wheels depends greatly on the wheel model, its availability, popularity, and market value.
I will not bore you with details on every one of the selected 100 wheels, but here you will find a sample from both ends of the spectrum. To keep it simple, here is an extract of the wheel sampling in our study
Price difference study
On the higher spectrum, the price difference between OEM wheels vs replica wheels reaches almost 80.2%. That is that you, as a consumer may be paying 80% less by buying replicas.

| | | | | |
| --- | --- | --- | --- | --- |
| Wheel Description | OEM MSRP | Replica MSRP | Difference | % |
| 17X7" Hyundai Sonata 2016-2017 | $518 | $102 | $416 | 80.3 % |
| 17X7" GMC Envoy 2002-2007 | $1,009 | $206 | $803 | 79.5 % |
| 19X7.5" Range Rover 2013-2019 | $865 | $191 | $674 | 77.9 % |
| 21X8.5" Chevy Camaro 2010-2014 | $860 | $198 | $662 | 77.0 % |
| 17X7.5" Jeep Wrangler 2007-2017 | $515 | $119 | $396 | 76.9 % |
---
As a result, the lowest savings seem to represent OEM wheels that are easily available and popular in the current US market.

| | | | | |
| --- | --- | --- | --- | --- |
| Wheel Description | OEM MSRP | Replica MSRP | Difference | % |
| 18X8" Cadillac SRX 2010-2016 | $336 | $230 | $106 | 31.4 % |
| 22X9" Cadillac Escalade 2015-2018 | $555 | $458 | $97 | 17.5 % |
| 20X9" Chevy Silverado 1500 2016-2018 | $396 | $360 | $36 | 9.1 % |
| 22X9" Cadillac Escalade 2015-2018 | $555 | $524 | $31 | 5.6 % |
| 17X8.5" Mercedes SLK 2010-2011 | $438 | $421 | $17 | 3.8 % |
---
Overall, we found that a replica wheel or a set of replicas is on average 58.2% cheaper than original OEM rims.
---
UPDATE: In our current times, the US Government has announced the implementation of trade Tariffs for many goods coming from China. You can expect to pay up to 25% more for replica and aftermarket wheels and parts. Most importers are already notifying their distributors of upcoming price increases ranging from 5 to 25%.
---
Size, Color and Application Flexibility of Replica Wheels vs OEM wheels
Some of the best replica wheels manufacturers offer popular wheel designs in various sizes and bolt patterns, beyond the original OEM size and pattern. That is what we call a "flexible replica".
Size Flexibility
Let's take the popular 20x9.5" Dodge "Hellcat" wheel as an example. This is a wheel 7 Y-spoke design OEM wheel for 2015-2022 Dodge Challenger and Charger SRT vehicles with an MSRP of $1,450 each.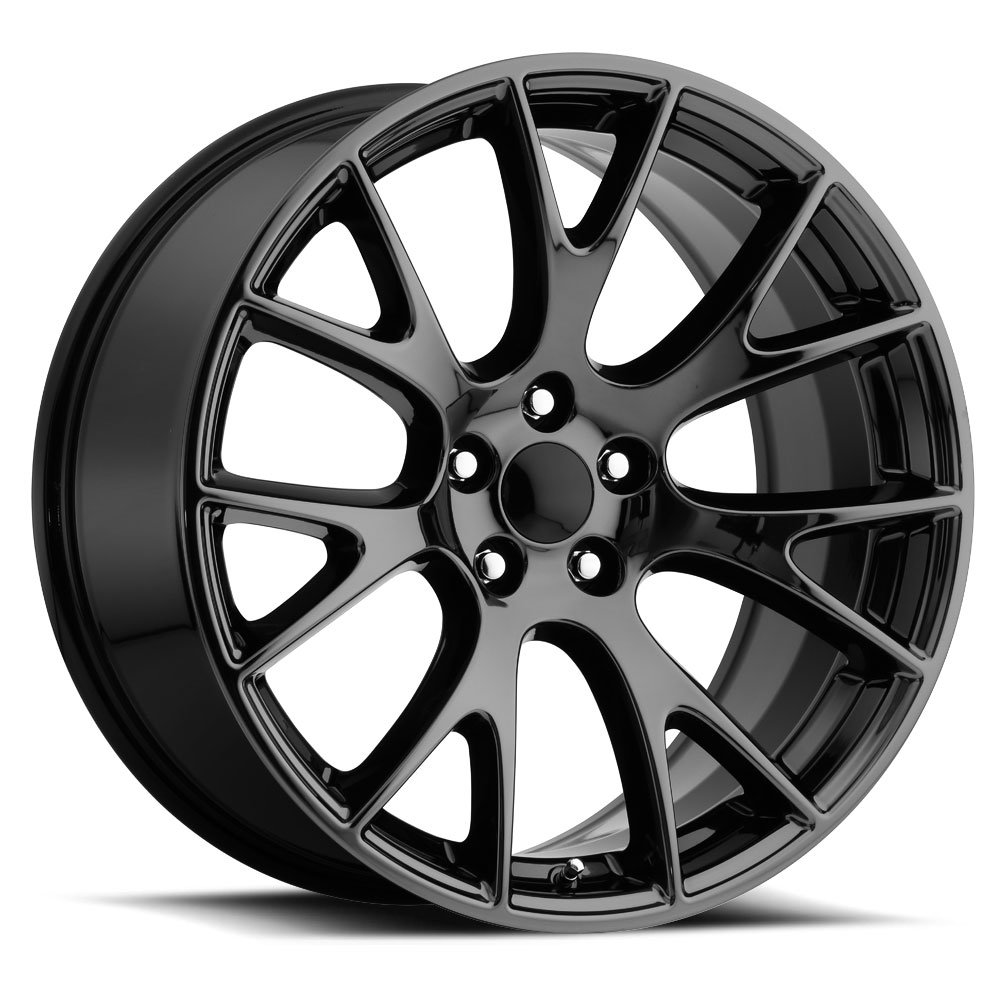 Originally, Dodge's licensed manufacturer designed the wheel in size 20x9", with 5x115 mm bolt pattern and 18.5 mm offset, specifically for these two cars.
Replica manufacturers were quick to realize the popularity of the design. As a result, you can find this rim in various sizes of your choice:
20x9 inch
20x10 inch
22x9 inch
22x10 inch
24x10 inch
Color Flexibility
Dodge offers Hellcat wheels in 3 different finishes, Low Gloss Black, Hyper Black, and Dark Bronze.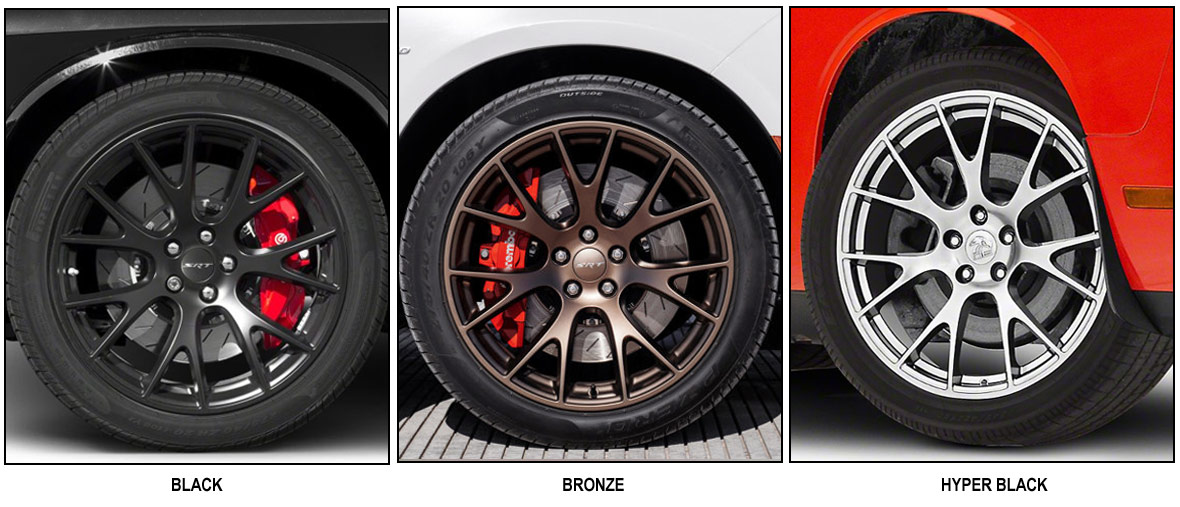 Hellcat replicas are more flexible reflecting the rim design popularity, with some interesting finishes and combinations. Replicas are offered in Chrome, Black Chrome, Bronze, Machined Face Black, Hyper Black, Satin Black, and High Gloss Black finishes.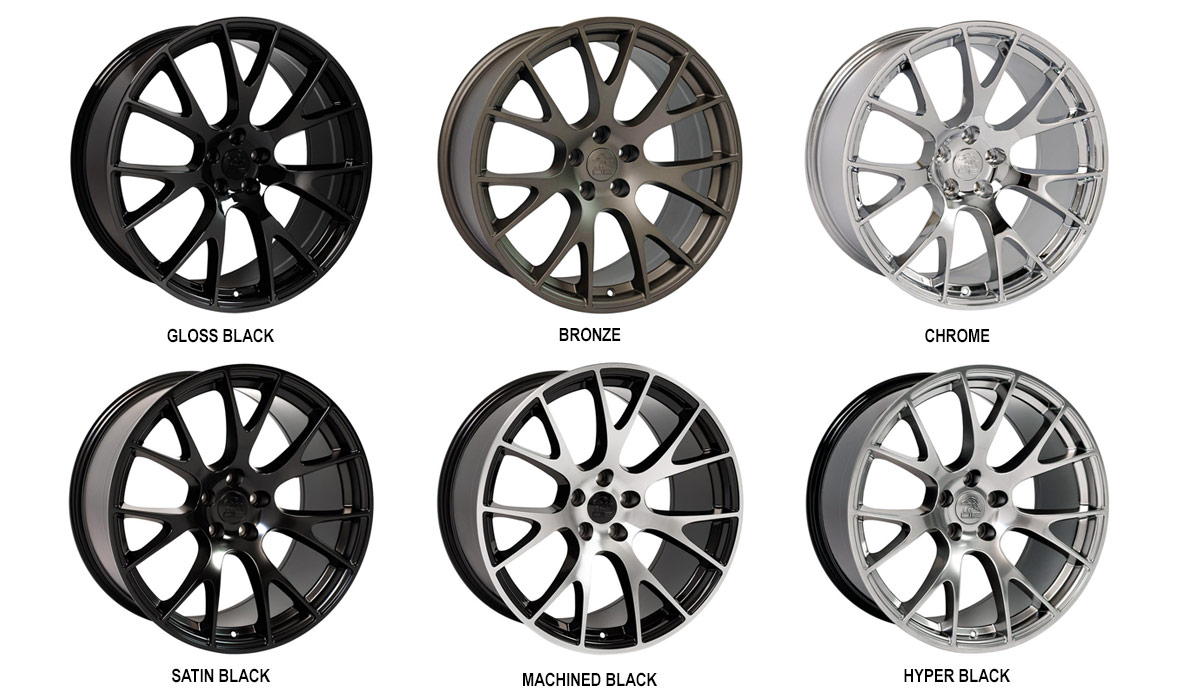 (Image courtesy of OE Wheels, LLC.)
Aftermarket replicas are now offered for several Dodge vehicles.
2005-2022 Chrysler 300
2008-2022 Dodge Challenger
2006-2022 Dodge Charger
2005-2008 Dodge Magnum
There is even a 24x10" Hellcat version with 5x5.5" (139.7 mm) bolt pattern and 25 mm offset to fit 2010-2018 Dodge Ram 1500 pickup trucks.
Our friends at Speedy Garage told us their Hellcat "factory reproductions were an exact match."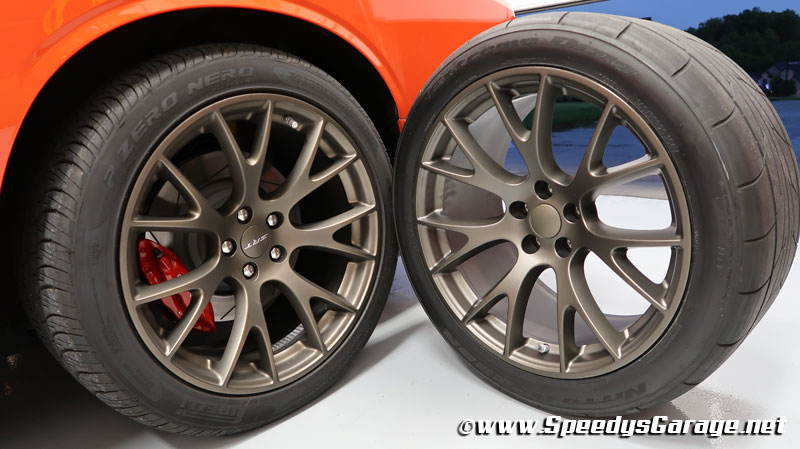 Dodge Challenger with OEM rims vs replica wheel ( Courtesy of Speedy Garage)
Let's not forget the center caps. Yes, that circular piece of plastic in the middle of your wheel with the car's brand logo in the center.
You would think that when you buy an OEM replica wheel, you should be able to pop your center cap from the old or damaged original wheel and install it in the replacement replica. Unfortunately, that is not always the case.
Reputable manufacturers and importers will have posted whether the center cap is interchangeable with the original. You should check with your replica distributor if this is going to be an issue for you.
What are the best Replica wheels?
Here you must take in consideration that we are reviewing strict replica wheels, not aftermarket rims that vaguely resembles a given style.
Remember that all Replicas are aftermarket wheels, but not all aftermarket rims are replicas.
The best wheel replacement is the one will conform to your needs, your pocket and your taste. In the Replica wheels case, there are some good names that offer flexibility and great products.
If you want to explore the best replica wheels for your muscle or performance car, I suggest considering products from Enkei, BBS or König. These brands can produce great wheels for racing, tuning, muscle cars or just plain showing-off. They even have a few SUV and truck options. In addition, all three manufacture OEM wheels for several car brands.
OE Wheels LLC is a superb seller of high-quality replica rims with lifetime structural warranty against factory defects. They are well-known for the quality of their products and the flexible offer of replicas in different finishes and sizes.
In our opinion, there are three other very reputable companies which we are currently comparing. We will reserve our conclusions for a later day when we will publish results in a new article.
Pros & Cons: Comparing Replica wheels vs OEM rims
OEM Wheels Pros & Cons
PRO – They are made for your vehicle as God (and the manufacturer) intended.
PRO – Maximized specifications for your vehicle.
PRO – Have all required DOT tests and certifications approved.
PRO – Maintains the vehicle's resale value and are required upon termination of your lease contract.
CON – Higher price. Up to 80% higher price tag than replica wheels.
CON – No flexibility on sizes or finishes.
Replica Wheels Pros & Cons
PRO – Much lower price. Up to 80% cheaper than the original OEM rims.
PRO – Many popular designs have greater size, finish and application flexibility.
PRO – Good to excellent quality.
CON – Products may or may not have all the required tests and certifications.
CON – In some cases center caps may not interchange with original center caps.
CON – Not allowed for insurance claim replacement or upon the termination of your lease contract.
Should YOU buy OEM or Aftermarket wheels?
Above all, that is entirely up to your needs, your wallet and your pillow, as I've mentioned before.
There are a few articles in the web demonizing replica wheels and alarming the readers of pending doom if they dare buy them. In fact, these are quasi-infomercials to steer you to buy nothing but their OEM products.
Let's keep our feet on the ground. Road conditions of most large cities are bad, and drivers are bending and cracking rims in every large pothole. Most of these people need replacement wheels in a hurry and many can't afford to pay $600 to $1,400 for one factory wheel.
Additionally, many car lovers aim to keep their vehicles 100% original, and for that, there is nothing better than maintaining OEM parts. Today's factory wheel design is versatile and car brands offer several finish options for selected wheels.
Buying OEM wheels from the dealer or a remanufacturer will ensure you have the best quality wheel, specially designed for your car or truck.
Now, if you look for more options, a different look or a cheaper solution, you will find much satisfaction with a replica wheel choice.
Many customers from northern states and Canada, keep more than one set of wheels due to potential snow salt damage. If this is you, you will probably look at great savings when purchasing replica rims.
Recent Posts
How to Buy Alloy Wheels Online: Your …

Wheel offset (ET or IS) is the measure of the span between the bolting face of the hub and the cente …

What is the difference between OEM wheels and Replica rims? Here is a question I 've heard several …